Let's Have a Coze 2009
December 2009
Happy Christmas! May you receive many blessings and gifts of the heart.
Life is extremely hectic for me right now. I'm crocheting gifts, sewing pj's and nighties for my grandchildren, quilting a lap quilt and then there is the baking for gift trays. We still take Mom to physical therapy at least once a week and have her over for lunch that day. All my siblings will be home this Christmas for the first time in a long time and she's looking forward to that. We've a big Christmas Eve party planned.
If you'd like to read the story of my first Christmas with my husband visit the WARA blog (link to the right) and go to December 6th.
I'm working on revisions for my regency ghost story. I'm hoping to send it back to the editor who requested the changes soon. The sections of the collection database have all been uploaded as of last week. I can now say I understand tables, which I used to organize the collection, a LOT better than I did before. A thank you to Vera for figuring out some of the problems we had with them!
My Christmas gift to you is a short story of a memory from my childhood that I wrote for the Wichita Area Romance Writer's newsletter a few years back. No, I'm not old enough for it to be a Regency story! Just follow the link. I hope you enjoy it.
Santa's Gloved Hand
Have a Blessed Christmas! JV
November 2009
November is the month to be thankful and I am especially grateful for B. Rauchfuss who designed my new web site. Besides all of the time spent on the wonderful new design B. also tutored me on CSS-cascading style sheets and XHTML. I also owe a warm thank you to my sister Vera who has helped me fine tune these pages and learn more XHTML code. I will toast them both with the Asti I bought to celebrate going live! Please use my email link at the bottom of any page to send me comments on the new pages.
This past month Vera and I have added several maps of Paris to our collection after I discovered in my WIP (Work in Progress) that my heroine needed an escape route through Paris. Vera gave me copies of the plates of Le Plan de Louis Bretez Dit "Plan de Turgot" (1734-1739) which is a gorgeous map of Paris. Click into one of the sections on the site and zoom in to see how detailed this map is. She also purchsed Le Paris des Lumieres d'Apres Le Plan De Turgot which was made in correlation to an exhibition of the map a few years ago, (a magnificent book with paintings and photos of buildings in Paris at the time of the map) and Paris An Electronic Tour of the Old City From Antiquity to the Eighteenth Century. I purchased a tiff of an 1850 Map of Paris for English Tourists I think we now have enough source material on the streets of Paris.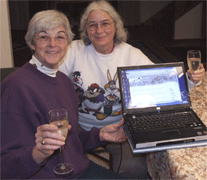 Now I'm off to do a happy dance and pop that cork on the Asti! JV
October 2009
The weather here wants to proclaim winter, at least for the day. Our first freezing frost is predicted for tonight. Tonight the garden will appear to be inhabited by ghosts with peppers and tomatoes draped with sheets to preserve them for another day. I picked the last of the fall roses and got three gorgeous bouquets. Do I have a lot of rose bushes? Yes, in a formal English rose garden I see from my dining table. The outer edges of each quadrant (there is a walk forming a cross between them) are ringed with salvia with are flames of red at the moment and the inner curve burgeons with a multiplicity of the vibrant yellows and golds of marigolds. The roses are inside the four quadrants with a water fountain in the center intersection of the walks. Soon the fountain will be replaced by a bird feeder. Either way the birds do entertain. Lately we've had a red tailed hawk visit us and I saw a blue jay. The orioles have gone but the cardinals are more in sight. We have turtle doves, sparrows, red headed wrens, and several other varieties.
My mother leaves skilled nursing today. She is going home with one of my brothers. We're praying that she will continue to improve with therapy.
I did find Wellington's HQ in the Lines of Torres Vedras (Pero Negro) thanks to a new book Vera purchased.
The Peninsular War A Battlefield Guide
by Rawson. I've continued reading on the period and it is confusing when different dates are assigned to the same event by different authors.
The History of the 14th Light Dragoons
doesn't agree with Oman's
History of the Peninsular War
and so goes my battle. JV
September 2009
Time is flying again. It's the 19th already--almost time to put up Halloween decorations. I do wish the stores would let us enjoy that season and not have Christmas already on display! My Mom continues to improve. She is walking with a 4-wheeled walker and yesterday she went a distance with just a 4-pronged cane. The progress is slow to her but amazing to the rest of us. Don't know if we'll do so good at 89 facing her challenges!
I've begun the fifth book in the Honour Series--Honour's Art of Love. Now if I could just pin down where Wellington's HQ was in the Lines of Torres Vedras on Oct 21, 1810 I'd have it made. Not really, but it would help. I have been reading several different versions of what happened before, during and after Wellington forestalled Massena. What is maddening about some of them is that they have no sense of time or day. In letters dated Oct 1810 they detail events but one can't be certain if they are talking about Oct or some other month without serious cross checking and sometimes that doesn't resolve the issue. I was surprised to read in three different sources that Napier (who participated in and wrote a history of the Peninsular War) was way off base in his recount of the battle of Bussaco. Years ago I read a Frenchman's telling of a battle and then an Englishman's version of the same battle. It hardly seemed possible in comparing their "tales" that they were at the SAME battle! That's just one of the small pleasures of research.
No word yet on my paranormal regency. Keeping busy makes the wait go faster!
My library has grown again.
Retrospect of a Military Life
by James Anton, 42nd Royal Highlander;
A Soldier for Napoleon The Campaigns of Lt. Franz Hausmann, 7th Bavarian Infantry
(I do like to keep up with the opposing army too!);
The Countryside Companion
by Wynford Vaughan-Thomas to name some of my purchases.
Our weather has been cool--Indian Summer arrived early. Hope you can enjoy the same. JV
August 2009
We're almost to the end of the month so I am very late posting this.  My mom had a stroke in late July and the time crunch really set in.  She's doing fairly well and is in skilled nursing now working on regaining the use of her right leg and arm.  Don't we take far too much for granted when we get up in the morning?
    I've obtained a two volume copy of Reminiscences of Henry Angelo  (1904) which I have been looking for forever.  Angelo was a maser at equitation (riding) and also a professor and teacher of the art of defense acknowledge as one of the most scientific swordsman of the day.  
I did get a request for the complete manuscript of my paranormal regency and have sent it in.  Now the waiting begins again.  I'm also querying agents again and hoping to start the 5th book in my Honour series by next week.  I'm about to wrap up the basic research for it.  It involves Major Lord Blake Danbury's tale and will be much lighter and more humorous than Honour's Redemption is.  
   Time is about to run out on the drawing for Thomasina.  If you are interesting in having a chance at a copy please visit my contest page (Please note that this is a one time contest. YOu will not find a Contest links as of November.   JV
July 2009
Hard to believe how time flies--whether you're having fun or not! I've gotten three categories up in the Joan Vincent Collection and many more to go. Have also been buying books. After having two orders in a row for
Peninsular Journal, 1808-1817: Major-General Sir Benjamin D'Urban
canceled I finally managed to snag a copy. My sister Vera just returned home after a trip to Great Britain and has some great additions for the collection. Her best acquisition is an edition of Ackerman's. Which reminds me we are waaaaay behind on the book reviews.
Instead of working on that I did the final edits on a paranormal regency. Wrote the synopsis and sent a query off over the weekend. Now I have to get to outlining the fifth Honour book and set up a writing schedule. It topped 107 here yesterday (the 14th). The heat isn't conducive to a lot. Does make one extremely grateful for air conditioning! JV
June 2009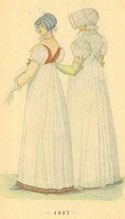 What is a "coze?" It's Regency-speak for a "comfortable chat" which my two regency ladies above and to the right are enjoying. A chat requires more than one person so I hope to hear from you some of you who visit this page.
For the past week I have been working on the new and "improved" web pages that are now in place. It has been such fun (read that with a satirical tone) because I do not know html and flew by the seat of my pants in the construction of these pages. You will also find two of them under construction. Ahh, such is life--for you and me!
The information which was one one page is now divided over a couple for clarity. I've also added some new pages to share my resources and improved others. Hence the addition of some photos about midway down on my bio page--if nothing else they prove that I was once young. Now back to work for me.