Joan Vincent
During the summer of 1976 while confined to bed for several weeks, I read the over 200 Regencies brought by my sister. I had always loved history and the written word and, rather arrogantly albeit, correctly, decided by the last Regency that I could write one at least better than the worst of them.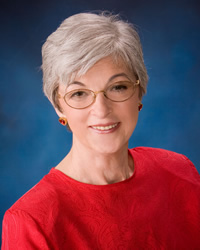 In 1977 a persistent mythical medieval plot that may never see the printed page took form. After it persistently demanded expression, I began writing. I completed it and then wrote Bond of Honour. After several rejections, I made a list of what publishers wanted in Regencies and then wrote
Thomasina
. The first publisher (Dell Publishing) I submitted it to purchased it. Upon its release, sales of Thomasina placed it on a Dalton Mass Media list. Dell purchased seven more manuscripts, one manuscript was not published due to the line's cancellation.
In 1983 financial pressures took me back to teaching. I taught in a self-contained sixth grade until 1991 when I began dividing my time between the sixth grade and developing a computer lab for the school. By 1993 I was full time in the Apple IIe computer lab. I designed, drew up specs for bids through out 1995 while continuing my teaching duties and installed a Windows 95 lab in January of 1996. Besides coordinating the use of education software by all students and teaching keyboarding and word processing to grades 3-8, I troubleshot hardware and software problems, ran the school's computer network and gained certification as a Novell Network Administrator.
From 1994 through 2000 I was the chief editor for all submissions to my church's quarterly magazine. It was a high quality production with over 1500 subscriptions at the time I resigned. After retiring from teaching in 2000, I returned to writing and the purchasing of research material. I have gathered a collection of over 1600 books that enable me to maintain historical accuracy in my work.
In the fall of that year my sister insisted we attend a Romantic Times conference. The praise and first place my writing earned at a pre-conference writing seminar revitalized my enthusiasm for writing. Once again a persistent story line developed in my head--in fact the stories of a group of cavalry officers. While writing that series I readied a much shorter work for submission. And again, June 2002, the first publisher who read it purchased
The Promise Rose
.
In 2004 I sold
The Scapegrace Miss
, retitled
The Betrothal
, to Avalon Books. It was released in June, 2005
I am currently working on both an old fashioned Regency ghost story and on the fifth book in a Napoleonic spy mystery/romance series which features Andre Ribeymon, Baron de la Croix, an émigré who works for the British government, a French master spy, Donatien, and the men and women whose lives they deeply affect. Synopsis of the four completed books may be viewed from on
http://www.joanvincent.net/honourSeries.php
.
My Life
I was born the third of six children--four brothers and one sister. I was raised on a Kansas wheat and dairy farm. My brothers and sister still recall how I wove stories from cloud formations and the stars. In the photos below I am eight months old, about seven and in the last around ten with two younger brothers.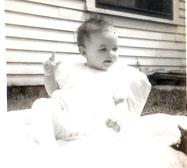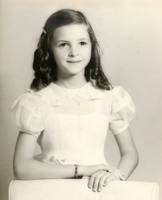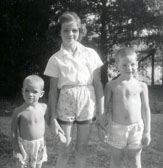 On the farm I worked along side my two older brothers. By my mid-teens I had taken over the evening milking chores (and morning during the summer) as well as tending other livestock. Between these duties I helped my mother in the garden. Many summer hours were spent picking, cleaning, and canning homegrown vegetables and fruits, as well as raising and "processing" beef and chickens. The hard work was balanced by much fun. Chasing fireflies, building mud "cities," generational softball games, barbecues, skating on the pond, and making homemade ice cream were but a few.
I became an avaricious reader as a child and read what was available at home--Reader's Digest and Time Magazine--as well as the broad spectrum of stories in Reader's Digest Condensed Books. The Zane Grey and Louis L'Amour westerns my father loved introduced me to adventure and romance. My eighth grade teacher introduced me to the wonders of the public library in the then distant city of Wichita, Kansas.
After graduation from high school, I earned a BS degree in Education. In more recent years I studied history, French, and Latin.
I married the summer after I graduated from college. We have two daughters and a son. In 2007 we celebrated our 40th Anniversary. Except for a brief stint in Arkansas while my husband was in the Air Force, we have lived close my childhood home. Our present home is a few miles from the farm on which I was raised. My hobbies include sewing for and playing with my young grandchildren Roman and Sarah, crocheting, quilting, and flower arranging. My husband claims my favorite hobby is filling an ever-increasing number of bookcases with books on all facets of 18-19th century English, French, and Spanish life and politics.
Writing Credentials
B.S. in Education with minor in American History
20 years experience teaching English grammar and writing skills
Author of nine published Regency and Georgian novels:
Editor of "The Spirit", 1994-2000
Member of Romance Writers of America, 1981-to present — PAN member
Member RWA Chapter WARA--Wichita Area Romance Authors, 2002-2008
Member RWA Chapter Beau Monde, 2002-to present
Member Wichita Area Romance Authors, 2009-to present