THE HONOUR SERIES by Joan Vincent
Honour's Redemption:*
The Honour Series Book 4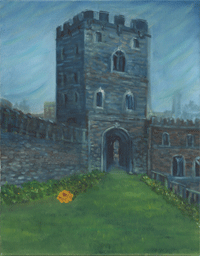 Captain Lucian Merristorm continues a guilt ridden downward spiral when unfairly forced to sell out of the 15th Hussars. After a night out with a man who harbors a secret vendetta against him, a heavily drugged Lucian regains consciousness in a coach halfway to Yorkshire. Lucian, who sought death in vain on the battlefields of Spain, is furious to find it has eluded him once again.
Ruth Clayton bartered a post for her father in far away Yorkshire after the loss of his preferment due to failing memory. When Lucian is thrown into the mail coach with them in London Ruth is appalled by her attraction to the wastrel. In Whitby she takes a badly beaten Lucian into the vicarage. Her attraction turns to love despite his every effort to turn it to disgust.
Unknown to both their arrival in Whitby thrusts a spoke in a French spy's plan to smuggle weapons and gold concealed in tunnels beneath the vicarage to France. When Lucian's enemy unites with the spy, Lucian faces the bitter reality that death may triumph even as it becomes the last thing he seeks. Ruth must reach deep into her heart to offer him HONOUR'S REDEMPTION.
Honour's Love: The Honour Series
Book 5

Lord Major Blake Danbury, third son of the Duke of Devereaux, gained notoriety at Eton when he relieved his boredom by translating Ovid's The Art of Love at the age of 15. Now on the Duke of Wellington's staff, he is ordered to escort Elmer Tanner who mysteriously appears at Headquarters in Spain, to London. His friends jest that the task should relieve his constant ennui. Little did they know the "dance" Tanner would lead him on before trying to elude him in London.

Tanner, unknown to the Lord Blake, is Elise d'Pamadert whose father spies for the English in Paris. Knowing French master spy Donatien who means to use her to break her father may be close behind Elise secures the aid of Baron de la Croix who has oft battled the Frenchman.

When Lord Blake discovers it is a woman he escorts he decides to teach her a lesson for what she put him through on the journey to London. But it is Elise who educates him even as her life hangs in the balance despite HONOUR'S LOVE. Work in Progress
Honour's Grail:
The Honour Series Book 6
Lieutenanat Samuel "Vicar" Goodchurch's story
Honour's Caprice: The Honour Series
Book 7
Mademoiselle Leora Ribeymon's story
Honour's Revenge: The Honour Series
Book
Andre Ribeymon, Baron de la Croix at last faces Donatien.