HONOUR'S DEBT: BOOK ONE THE HONOUR SERIES

Paperback on sale at Amazon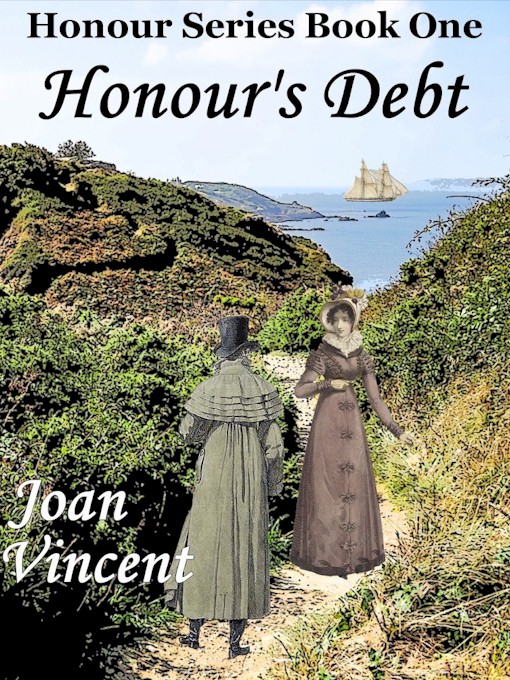 Maddie Vincouer conceals her father's death in 1809 after promising to save her family from Cousin Sanford's greed. A Riding Officer's persistence endangers this pretence with his demands to meet her father. Chance reveals her secret to the cruel French spy Donatien.
Matters go completely awry when Maddie aids a wounded "free trader." Unknown to her, the free trader is Major Quentin Bellaport. He has accepted an assignment to pursue a spy in order to meet and repay the debt owed for his life to Maddie's cousin Jamey by wedding her. Sanford's appearance and demand Maddie marry him, the Riding Officer's hunt for the free trader, Bellaport's pursuit of the French spy, and he and Maddie falling in love hasten a final confrontation between all. Maddie faces a funeral, a wedding, kidnappings, and a deadly encounter on a moonlit beach. In a desperate attempt to save her Bellaport enlists the help of Baron de la Croix and rolls the dice on the fate of all their lives as he pays HONOUR'S DEBT.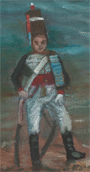 For those who would like to hear pronounciations of Debt's character's names please click on the soldier to the right.
Thank you to my sister for lending her voice to the reading of the list.
HONOUR'S DEBT   APRIL 1808 – JUNE 1809
Honour's Debt  Series Characters in order of introduction:
Major Quentin Bellaport of the 15th Light Dragoons (Hussars)—second son of the Earl of Margonaut, estranged from his father
Thomas Bellaport, Viscount Broyal—oldest son of Earl of Margonaut
Philip August Bellaport, Earl of Margonaut—Phillip and Lynette Bellaport are his younger children.
Madeline (Maddie) Vincouer—oldest daughter of Matthew; younger brother Malcolm and sisters Ruth, Helen, and Jessamine (Jessie)
Albert Vincouer—Maddie's uncle and father to Jamey and Barnabas
Sanford Vincouer—son of deceased Percival, 1st cousin to Maddie and Jamey
Pricilla (Aunt Prissy) Benton – Maddie's maternal aunt who lives with the family
Major Lord Blake Danbury of the 15th Light Dragoons (Hussars)—third son of the Duke of Devereaux, bears an habitual air of ennui which continues to be major trial to him
Lieutenant James (Jamey) Vincouer of the 15th Light Dragoons (Hussars)—Maddie's first cousin
Lieutenant Samuel Goodchurch of the 15th Light Dragoons (Hussars)—nicknamed Vicar due his constant quoting from the Bible
Elminda Vincouer—Sanford's mother
Agatha Vincouer—Sanford's sister
Donatien—French master spy whose disguises included Jacques Porteur and Squire George
Mr. Lambert—Neighbor to Maddie's family and host to Jacques Porteur
Captain George Medworth—Excise officer in charge of capturing smugglers in Hayward area
André Ribeymon, Baron de la Croix—Lady Juliane Tretain's nephew whom she rescued as a young child with his infant sister from France during the Terror.  She and her husband the Earl of Tretain raised them as their own.  Presents a foppish appearance and manner to conceal his work as an English government agent
Hadleigh Tarrant— nephew of Adrian Tarrant Earl of Tretain, recruited to become a government agent by best friend Andre Ribeymon, Baron de la Croix