HONOUR'S CHOICE: BOOK TWO, THE HONOUR SERIES

RT Book Reviews May 2013 4 Stars There's more suspense than romance in the second entry to Vincent's Honour series, but both keep the reader on the edge as finely-wrought characters tell an exciting tale. Unresolved circumstances leave the reader eager for book three. Donna M Brown
Paperback on sale at Amazon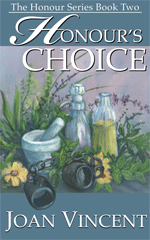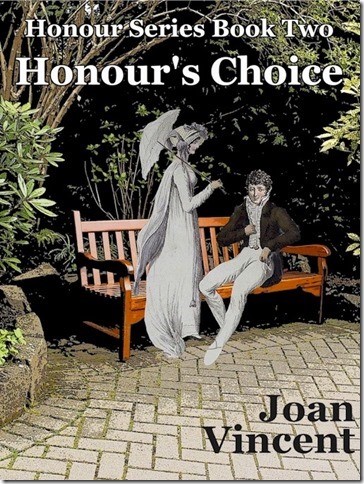 1809 England. Hadleigh Tarrant joins in the hunt for government bullion thieves. Captured and tortured by their leader Donatien, Hadleigh is left to die.
Sarah, Lady Edgerton, a middle-aged widow, nurses the critically injured Hadleigh when he is found near her home despite the danger to her reputation.
Their hearts choose each other, but Hadleigh is haunted by the tragedy of his parent's marriage and fears that love will cause him pain worse than that of any torture. Sarah, trapped by the years between them and secrets that would turn him from her forever, tries to hide her love and do what is best for Hadleigh by giving him up.
Donatien, the malicious French spy reappears determined to purloin military secrets. He is also intent upon a revenge that threatens Sarah and Hadleigh's growing love and their very lives. Hadleigh must unmask the spy before he and Sarah can decide between dishonour and
HONOUR'S CHOICE

HONOUR'S CHOICE takes place from FEBRUARY 1809 – DECEMBER 1809
The Honour Series Characters in order of appearance:
Hadleigh Tarrant— nephew of Adrian Tarrant Earl of Tretain, recruited to become a government agent by best friend Andre Ribeymon, Baron de la Croix
Andre Ribeymon, Baron de la Croix—Lady Juliane Tretain's nephew whom she rescued as a young child with his infant sister from France during the Terror.  She and her husband the Earl of Tretain raised them as their own.  Presents a foppish appearance and manner to conceal his work as an English government agent
Earl and Countess Tretain—Adrian Tarrant, former English Government  agent and Juliane Perrill.  Home estate is Trees in Berkshire
Sarah, Lady Edgerton—widow of Sir Rufus Edgerton, Baronett who uses her knowledge of herbal medicine to care for the people in the Lewes area
Elminda Edgerton—Sarah's sister-in-law
Donatien—French master spy famous for his disguises seen as English Squire George and then as French emigré Jacques Porteur (Book 1 Debt), and the French spy Chercheur and the Prussian officer Berthold von Willmar (Book 2 Choice).  Letu (dies May 30 1809) and Gano are his henchmen
Petit—dwarf brother of Donatien who acts as his butler and valet
Mr. Gilmar Crandall— physician from Lewes who treats Hadleigh while at Edgerton Manor
Molly—abigail to Sarah who also assists her with her medical treatments
Darton—long-time Edgerton butler
Bob Cauley—former sergeant and batman hired to help take care of Hadleigh at Edgerton Manor.  He later becomes Hadleigh's valet.
Amabelle Edgerton—Sarah's step-daughter
Michael Leonard—Sarah's younger brother who is an underclerk at the War Office In London
Leora Ribeymon—Andre's younger sister raised by the Tretain's from infancy
Michelle, Ann Marie, Louis and Daniel Tarrant—children of the Earl and Countess of Tretain
Quentin Bellaport, Viscount Broyal and his wife Madeline (Maddie—their story is in Book 1) Former Major of the 15th Light Dragoons (Hussars)
Major Lord Blake Danbury of the 15th Light Dragoons (Hussars) —3rd son of the Duke of Devereaux, scar runs down right cheek
Captain Lucian Merristorm of the 15th Light Dragoons (Hussars) —renounced his honorary title as Earl Gilchrist; is known for his courage in battle but also for his drinking and wenching
Lieutenant Samuel Goodchurch of the 15th Light Dragoons (Hussars)—nicknamed Vicar due his constant quoting from the Bible
Lieutenant James Vincouer of the 15th Light Dragoons (Hussars) —Lady Maddie Bellaport, Viscountess Broyal's first cousin; went missing on the Spanish Peninsula during the retreat to Corunna in 1808-09