Let Have a Coze
Thanks for stopping by this archived page of Cozes from 2013 January through June when I stopped writing Coze.
June 2013
Summer time once again and thankfully a much different summer than last year.  Heat and drought were the bywords last June.  This year we've had rain aplenty and reasonable temperatures meaning not in the 90's and 100's already.  The yard is awash in a sea of greens and flowers.  Our shrubs and trees which looked anemic in early May are now vibrantly arrayed in the glory of multiple hues of green.  It seems rather ironic that the yard is so gorgeous this year.
After over twenty years in this home which we built we are preparing to move.  It is by choice--downsizing and preparing for the future.  But, my, what a task to empty a home after so many years.  Conspicuous consumption comes to mind as we continue to haul things to Good Will or into storage.  I'm too tired for a garage sale.  At times I'm too tired to continue cleaning out!!  The one thought that sustains me is that when it comes to finally moving out when the house sells, the task will be much easier.
One thing has become clear.  The items one hangs on the walls and accents bookcases with etc . are what turns  a house into a home which reflects the family living in it.  I've removed everything from the walls, taken out my research library, and all knick-knacks etc.  Some large pieces of furniture have also been placed into storage.  The house no longer looks or feels like home.  This made me think of the characters I write and of their lives.  I've always known that describing their part of their world was critical for a character but I will now pay closer attention to the details of their lives and homes.  This experience of moving will enhance my writing as does all life experience. 
What experience you lived through changed the way you look at things? How did your outlook change?
May 2013
'Tis a bit early to be posting for May but I will be in Kansas City at the RT Book Lovers Convention beginning April 30th. On Thursday May 2 I will be at the RT Book Lovers Conventions E-Book, Indie Publisher & Graphic Novel EXPO in Kansas City. I hope to see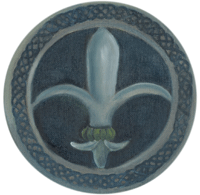 some of you there! The artist who paints my cover art will also be at the Expo as well as my sister.
Both ebook (through All Romance) and the print edition will be available at the signing. I'll also have with me paperbacks of Honour's Debt and Never to Part. I have a promo item in the conventions registration bag. I made 1400+ soaps in the shape of the fluer de lis coin that is used as a sign among Baron de la Croix's associates in the Honour series. 1400+ clear packets of the soap and a card with Honour's Choice's cover and information on it are what I sent off on Sunday to KC. It's been a learning process in getting these ready and I now know what NOT to do when undertaking such an endeavor! I'm looking forward to seeing the results of the promo. I'll post what happened in Kansas City when I get back from the convention.
You may also notice, if you've visited this page before, that I have now added a facebook link. I do have a Joan Vincent facebook page now and would appreciate all llikes and any comments. I'm still learning how to use facebook so please be patient as I muddle through the process. Tje addage "teaching an old dog new tricks" comes to mind when I think about all the social media changes the last few years.
Look me up in KC! JV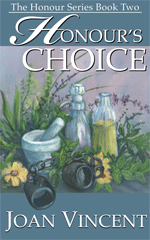 April 2013
I have been beyond excited since getting word that my newest book, Honour's Choice Book 2 of The Honour Series has been given a 4 star review in May's issue of the RT Book Reviews magazine in the historical category. Donna M. Brown wrote, There's more suspense than romance in the second entry to Vincent's Honour series, but both keep the reader on the edge as finely-wrought characters tell an exciting tale. Unresolved circumstances leave the reader eager for book three."
With the review already up in the digital RT Book Reviews May issue I have decided to have Honour's Choice go active April 1. There are links on its page for the ebook and print copy. On Thursday May 2 I will be at the RT Book Lovers Conventions E-Book, Indie Publisher & Graphic Novel EXPO in Kansas City. I hope to see some of you there! Both ebook (through All Romance) and the print edition will be available at the signing.
I'd like to hear what you think of the cover for Choice. Please send your comments to Joan Vincent
I'm still working on the convention packet inserts and have spent a lot of time as March comes to a close on last minute details with Honour's Choice. If you's like to know more about the Honour series and why I write visit Bits & Bytes on April 6th when its my day to blog there.
Happy Easter!! JV
February - March 2013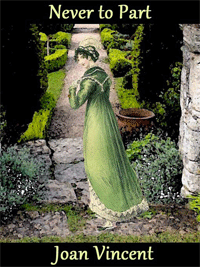 Here I am late again. To see a partial reason why visit my February post at Bits & Bytes.
Besides being caught up in all the promotion projects for the RT Book Lover's Convention in May I've also been busy with the last minute details of a new book launch. Never to Part, my paranormal regency has finally seen the light of day. It is now available as an eBook at Regency Reads. This story has taken an age to reach publication. It was originally plotted during a writing retreat with the help of fellow WARA members. By the time I finished writing the story I was almost fonder of the ghosts of the original Dremores than of the Regency era family. Some day I'll have to write their story. Never to Part is a treasure hunt --love and fortune, quite literally waiting to be discovered with the help of two ghosts determined to keep their descendants on the right path.. I certainly learned a lot about laurel leaves and their "magical" history. You'll have to read the book to find out why laurel leaves are so important to the Dremores. To the left is the eBook cover. This is the rectangular version which shows more of the figure of Daphne.
Back to promotion projects. I have all the soaps made and packaged and now have only to make the insert cards. That part of the project will be more time consuming than all the rest. I've also received the proof copy of the ad for Honour's Choice which will run in the Romantic Times magazine in May. It looks really good and I'm very excited about it. I also was told that a review of Honour's Choice is slated to be in the May issue with the caveat that "room is "tight" and it may get bumped and only appear in the digital edition." Keep your fingers crossed that it makes both.
I missed wishing everyone a Happy Valentine's Day but my stories do that every day! It seems appropriate the Never to Part is cast in green hues. It's perfect for a Happy St. Patrick's Day and a wish that you all have a little romance in your lives. JV
January 2013
Those of you who visit this page will have noticed that I have been absent since last September. At that time I had the perfect storm in that my mother passed away and I was hit by a very severe lung infection. The infection got worse in October and it has taken me literally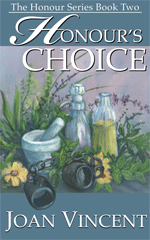 months to recover sufficiently to resume writing. The planned October launch of the second book in the Honour series, Honour's Choice never happened.. It will now be released May 1. I'm excited about this book's potential. Here's a preview of the cover. The story is about a woman (Sarah) who has great skill treating illnesses with herbs, finding a man (Hadleigh) who has been viciously tortured. You may remember that Baron de la Croix's friend is still missing at the end of Debt--but not for long. The same artist who painted the cover for Honour's Debt did this painting for Choice and it is one of my favorites. Purchase Debt on Smashwords  Amazon  Barnes and Noble to post reviews.
This week I finalized plans to attend the Romantic Times Convention in Kansas City in May. I'll be signing print copies of Debt and Choice on Thursday May 4th from 4 to 6 PM at the E-Book, Indie Publisher & Graphic Novel EXPOat at the Sheraton Kansas City Hotel at Crown Center. All of my e-books at this event will be available through All Romance E-Books (ARe). I hope to see some of you there!